Sustainably Made in the USA

'We live on a planet that has a limited ecosystem and what we do has a large impact on our environment. This means that having a sustainable business is imperative to your survival as a company.' – Mike Uebersax, President & CEO of Element Designs

When defining what it means to be sustainable; the material, product, and/or process must have not only a low impact on the environment itself but it must possess characteristics that by definition help prolong and sustain it's lifecycle.

At Element Designs, sustainability has always been at the core of what we do and the products we make. Some of the key materials we use, like Aluminum and Glass are naturally and inherently sustainable. Other materials like our dECOLuxe Solid Acrylic were sought out specifically because of the way it is made, out of 100% recycled acrylic, and because it is 100% recyclable.

In addition to the materials we use, the way in which we manufacture has evolved to become much more sustainable and eco-conscious. We have more resources now than ever before, which gives us the ability to make a significant impact in the preservation of our planet. We will continue to innovate the ways in which we produce our products and hope you can join us on our mission to leave this world a better place than we found it.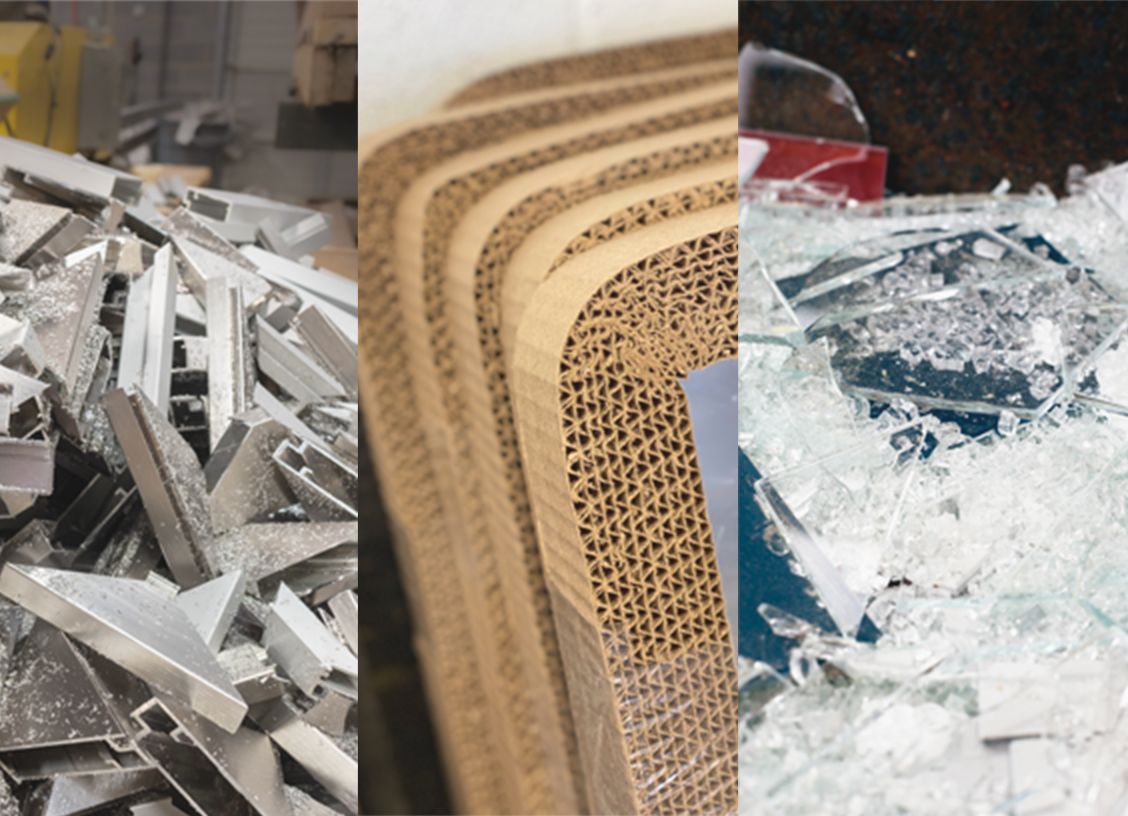 GLASS

All glass material contains at least 20% post industrial recycled content. The architectural resin used for our 3Form inserts also yields a high percentage of post industrial material.

Unusable glass generated during manufacturing is reused in asphalt production. Our glass materials and products are 100% recyclable.
ALUMINUM

All aluminum products are manufactured using materials from regional suppliers in an effort to reduce our carbon footprint. Our aluminum products are exceptionally durable, have an extremely long lifespan and are virtually maintenance free.

Aluminum extrusion waste generated during manufacturing is taken to a local metal recycling facility here in Charlotte, NC. Our aluminum materials and products are 100% recyclable.

We encourage the reusability and repurposing of all aluminum doors too. This is easily done by replacing components within and around existing aluminum doors and frames.
ACRYLIC

dECOLuxe Solid Acrylic is made out of 100% recycled acrylic and 100% recyclable. It uses PMMA (Polymethyl Methacrylate) which is the only plastic that can be recycled back to its original raw material: Monomer.

During manufacturing, dECOLuxe uses less water and generates less CO2 than standard cast acrylic sheets. It is also VOC (Volatile Organic Compound) and HFC (Hydrofluorocarbon) free.
FACILITY None of our products contain VOC's. Our backpainted glass process uses environmentally safe water based paint.

Zero chemicals or toxins are released from our products, there is zero effect on indoor air quality.

We offer full-service recycling on all our products, where instead of discarding them or throwing them away, they can be sent back to us where we will ensure complete and proper recycling at no charge.

Our raw packaging materials are regionally sourced. To protect our products in transit we use corrugated edge wrapping and honeycomb foam alternative, both of which are made from 100% recycled cardboard. For void fill we use biodegradable plastic air fill.

Within our production space and company office we recycle all cans, glass and plastic bottles, office paper, paper products. We also actively promote the importance of environmental responsibility and are proud to sponsor a recycling center for our industrial park.
HEALTH PRODUCT DECLARATIONS

HPDs are now available for all Aluminum Frame Doors and Glass Inserts. HPDs explain what goes in to what we make and any hazards or risks derived from those ingredients. Soon we will have HPDs available for all products. Please visit our Technical Page HEREwhere you will find all current HPDs.